Welcome to
AussieWheel
Australian Caravan & Trailer Movers
Worm-drive gearbox with direct shaft drive
No chains and sprockets to service & maintain
Thank you from a Happy Customer
"My partner and I bought an Aussie Wheel unit last year. I thank you for the honest discussion about its capabilities and your prompt service.
We have to use it where the caravan is on a slope and, on your advice, we used very solid chocks in case the mover didn't hold. However, although the chocks are still there 'in case of emergency' I realise that some would not use them at all.
The mover has made a potentially dangerous and damaging task, safe and achievable, without the help of 4 burly neighbours.
Given that we are both grey nomads, that is quite an achievement. Thank you for your product and your service."
Quality Caravan & Boat Movers
Welcome to AussieWheel, the best caravan mover, boat mover and trailer mover manufacturer offering quality and high performance to the Australian market.
Aussie Wheel Electric Caravan & Boat movers are manufactured for Australian conditions and trust us that our power mover range is the best in terms of design, price, performance and quality. Our movers will help you get the job done safely, quickly and effectively.
Hopefully you will be comfortable recommending us to your friends.
We guarantee you will not find a better, cheaper electric jockey post or tug in the market.
Domestic Power Movers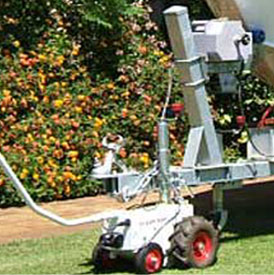 Model AW1
* Normal moveable weight – 1200Kg
* Power output – 140 Nm
* Speed – 20 Metres/min
—
Caravan Mover with optional chevron tyres and jockey post.
Model AW2
* Normal moveable weight – 2100Kg
* Power output – 245 Nm
* Speed –11 Metres/min
—
Trailer mover shown with Standard Balloon tyres and Jockey Post Hitch.
Model AW3
* Normal moveable weight – 2700Kg
* Power output – 320 Nm
* Speed – 8 Metres/min
—
Trailer mover shown with optional
Battery Tray, Balloon Tyres and Ball Hitch.
Commercial Boat Caravan Movers
Model AW5
The AW1 to AW4 models are aimed at the domestic market, however for the larger vans and factories/small caravan yards/boat yards we offer the AW5.
Dual motors/gearboxes.  Total output 470NM
Capacity 4500kg on flat level ground
16 RPM giving approx 17m/min
Onboard deep cycle batteries total 110 a/hour
24V Charger supplied with each unit
Solid foam filled tyres on 150mm welded rims
Safety switch and direction switches in handle
Isolation switch and optional siren included
AussieWheel Tyres and Options
Note: Balloon or Chevron Tyres can be foam filled.
Balloon Tyres
Standard Balloon Tyres 6" hubs
included for AW1, AW2, AW3, AW4
Chevron Tyres
Giving grip on grass or loose surfaces 6″ split hubs
Clamp Post Hitch
Flexible stable connection.
Fits 90x50mm to 160x50mm A-frame.
Ball Hitch
Treg Hitch
Jockey Post & Clamp
Firm, easy, connection for larger vans.
Requires Double Clamp.
AUSSIEWHEEL A1 – A4 GENERAL SPECIFICATIONS
Safe 12 or 24 Volts DC Battery Powered Mover
Optional Interchangeable Hitches – Ball, Jockey Post, Treg or DO35
Size Exc Handle – Width / Length / Height – 350 / 640 / 320
Mover Weight – 40 Kg – Optional Solid Tyres 12 Kg
The motor and worm-drive gearbox provide the most power output for size and is rated for continuous use. A forward and reversing rocker switch in the handle stops motor instantly and acts as a brake when released. The handle is removable for transport and can be angled each side so that machine can be operated whilst viewing along the side of caravan or boat.
Power is from any 12V DC battery usually mounted in van or a battery tray can be fitted on the top of unit. A battery lead is supplied with your choice of connecting clips. (Crocodile clips, Anderson plug or ring connectors.) Standard is 3.0m long. It is preferable to keep this as short as possible to prevent possible voltage drop. The AussieWheel is also available with 24V DC increasing speed 40%.
When more power is required – going over grass, going up a slight slope or a lot of turning always select the more powerful unit.
Driving wheels can be either single wheel drive for easier turning or both wheels driving for maximum pulling power and grip.
Standard wheel is a balloon tyre suitable for hard surfaces. Wheels are easy to remove and punctures are easy to repair. Chevron tyres suit firm grass or gravel surfaces. For extra traction or firm grass the wider Turf tyre is a great option
With heavy loads tyres can compress on one side when turning, this can be overcome for Balloon or Chevron tyres with foam filled tyres. This option must be chosen at time of ordering.
Unlike most movers, AussieWheel does not have a chain drive but relies on a direct shaft drive from the worm-drive gearbox. Where possible we use Australian parts and local suppliers.
A two-year warranty is standard for Domestic use and 12 months for Commercial use.
Fully C.E. Electromagnetic tested and approved in accordance with AS1044.